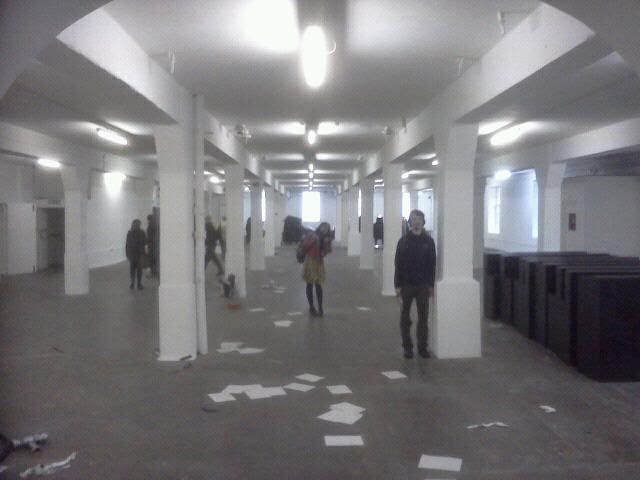 A spy shot of the space in which we will be exhibiting. It should look quite different come June, hopefully...
Last week I headed up to London's infamous curry capital (AKA Brick Lane) to vist the Truman Brewery. The reason? To scope out gallery spaces for next year's
Free Range
graduate art exhibition.
Yes, that's right, next year, on June the 14th 2012, my fellow photography students and I will be exhibiting our independent graduate projects right in the heart of Brick Lane. Exciting times.
Of course, before we get to that stage there is an awful lot that needs to be done. A frightening amount, in fact.
The project itself is the first port of call. There's no need to keep it a secret, but I do enjoy a bit of a mystery. So all I'm going to say is that I'm very excited about this project (or totally stoked, to be Canadian about it), that it will involve some good fun, a ridiculous amount of reading and an even greater amount of work.
It's also going to cost a tremendous amount too. At a rough calculation I've estimated a cost of £1430.00 - rather a lot, in my opinion. I might even set up a Just Giving page for this.
Here are a few key words and some images to get you guessing on the subject and nature of the project: Fantasy, escapism, Skyfall.
Some of these images refer to inspirational photographers and/or photography, and some to ideas and some to actual content that will feature in the project.
Anyway, for now, if you want to gaze upon some beautiful photography amidst the fragrant whiff of curry, then mark the 14th June 2012 in your diaries. I'll keep you posted on how things are going.