A Short Photo Essay
For as long as I can remember, I have spent New Year's Eve and subsequently New Year's Day in Holland. So I'm not quite sure how we go about celebrating it in England (probably a game of Scrabble before getting uproariously drunk and then going to bed, I imagine), but in Holland it's all about the fireworks. And I don't just mean they go into their back gardens and light a sparkler, followed by a £30 'Ramesses Rabid Retribution' which emits a few purple sparks before sputtering out, reminding you that it has just burnt a larger hole in your wallet than the grass around it.
Instead, upon the stroke of midnight, everyone grabs their hoard of fireworks and pours out into the streets, whereupon they unleash a chaotic, confusing and wonderfully enjoyable Armageddon of pyrotechnics.
Below is a selection of photos taken this New Year, in a suburb of The Hague (Den Haag).
A crack-a-jack, a roll of hundreds, if not thousands, of bangers creates a deafining machine gun noise, plus a blinding strobe effect.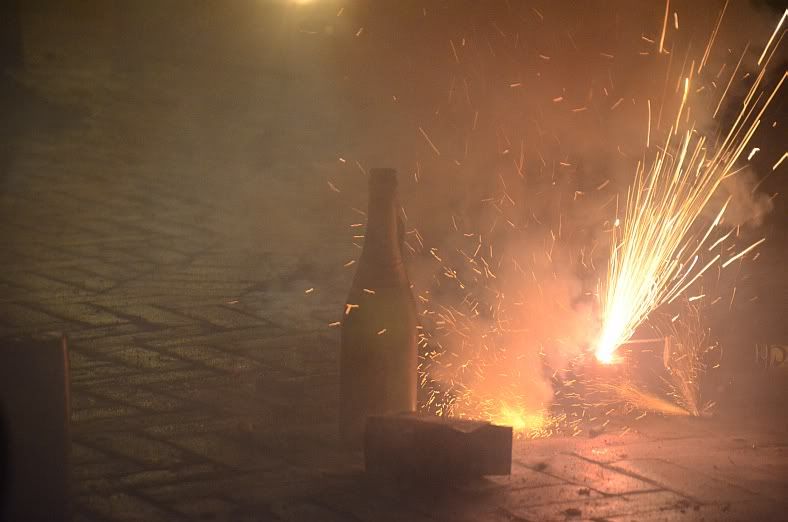 Champagne and fireworks. Pretty much sums up New Year's Eve in Holland.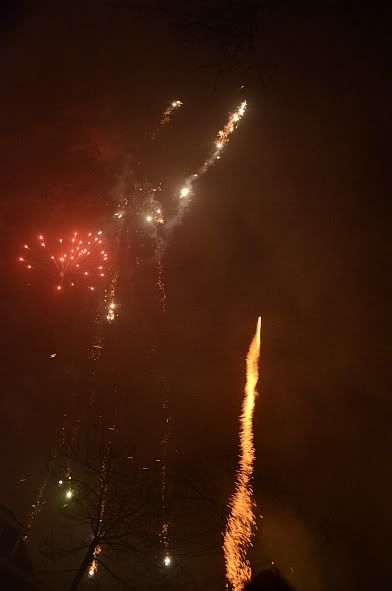 A taxi bravely (and perhaps stupidly) attempts to navigate the streets of chaos.
As there's no mud to stick the fireworks into, they're usually shoved into the empty carcasses of used blocks of fireworks, empty champagne bottles, or simply hand held.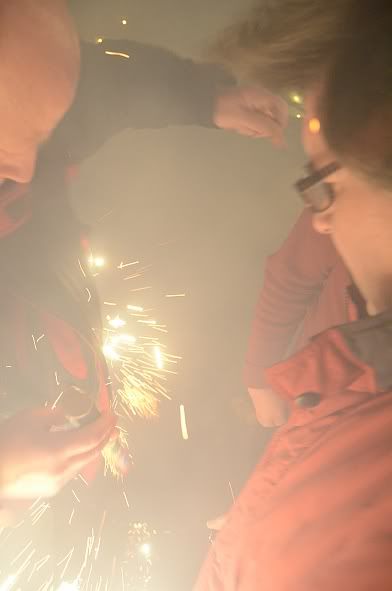 We only got hit by one firework this year and I was fortunate enough to capture the moment on camera. A neighbour's Roman Candle tipped over and fired accross the street at us instead of into the air. Fortunately, no-one was seriously injured.
Visibility is significantly reduced as the streets become filled with the smoke of unceasing pyrotechnics.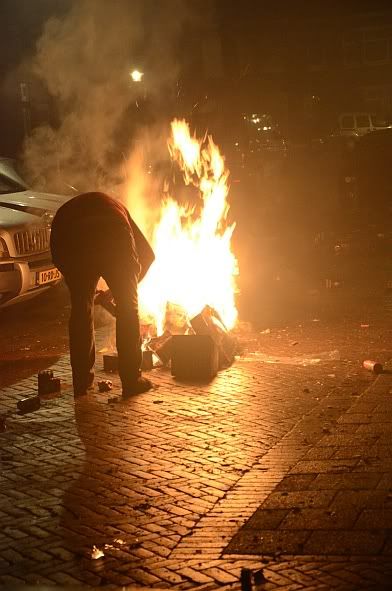 Street fires have now become out-lawed as a result of too many accidents involving burning unlit or used fireworks which still contain gunpowder. They still happen though. Interestingly, one of the neighbours here was a policeman, and he didn't seem too fussed. The occasional fizz, crackle and explosion only adds to the interest of your standard bonfire, I think. Check out how close to the parked car this fire is.
Neighbours look on, amused, as a car works out how it will avoid the mid-street fire.
All photos copyright Jason Wain