Doesn't time fly? You may well remember a photograph almost identical to the one above from an
earlier post
. Back then it seemed that the
Free Range graduate exhibition
was absolutely eons away, but here I am, wallowing in the aftermath already. Not that there's been much of an aftermath for me, mind you.
Despite plenty of last minute panics, rushed logistics and fears that the private view would be a flop, everything went rather well. The private view was particularly successful and saw hoards of people in
Phocus'
T3 block of the Old Truman Brewery. Although the complimentary Pimms, red wine, snacks and samosas certainly would have had some influence on this large footfall, it also has to be said that the quality of the work was outstanding and drew plenty of compliments.
One of my
chums
has been featured in the hallowed pages of the
British Journal of Photography
,
another
now has an agent, whilst
another
has had multiple requests for purchases of prints, to name but a few of the success stories.
I was proud to be part of such and event and to be able to exhibit alongside such motivated and talented individuals. Many thanks to all who came too!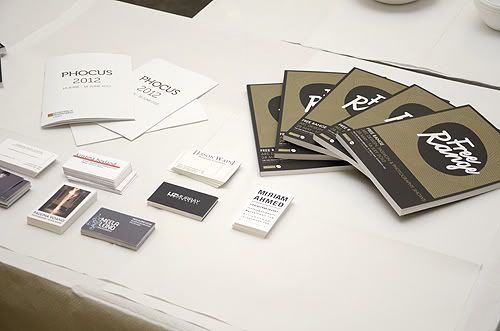 Plenty of free Pimms kept lots of the exhibition-goers happy. Tasted as good as it looks.
My contribution. The 'movie-still' images will be posted on the blog soon...
A large number of people, great photography and free food and drink made for a good atmosphere.