One of the highlights of my university life was being right on the doorstep of Richmond Park. A couple of days a week, my flat mate and I would head out early in the morning (early for a student at least) and ride round the park on our bikes.
Two things struck me about Richmond Park. One was how it so successfully gave a rural impression despite its location, and the other was the fact that it never got boring: every time of day and every weather condition displayed it in a different light, and gave it a renewed beauty. From the stunning silhouettes of deer on a misty, sunlit morning, through to the moody morbidity of a grey, rainy afternoon, there was always something that left me a little awe-struck as I peddled round.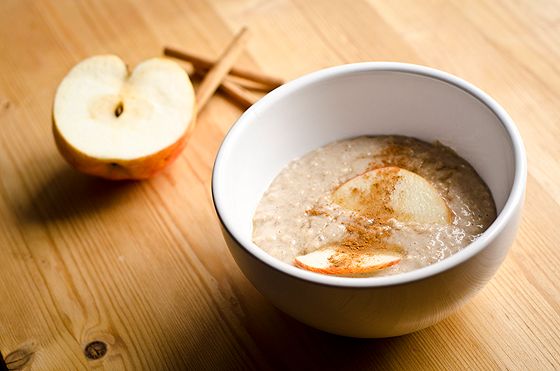 Returning from a ride on a freezing, wintry morning, one was, after a hot shower, always in need of a speedy and hearty breakfast to get one going. A bowl of creamy porridge with sharp apple, sweet honey and warming cinnamon was one of my favourites, and fitted the bill perfectly.
Honey, Apple and Cinnamon Porridge
I've never been one for breakfast recipes. I always think it slightly ludicrous that anyone should roll out of bed at 07:00 in the morning and scrabble, bleary eyed, for a recipe book which then starts telling them to weigh flour, measure milk and slice shallots. I find it difficult to talk in the morning, let alone cook. So here we are then, somewhat hypocritically, a breakfast recipe. Though it is a stupidly simple, nutritious and soul-warming way to start the day. In addition, it can, in reality, be enjoyed at any time of day.
Serves: 1
Ingredients
50g porridge oats
270ml water or milk
1/2 an apple
1 teaspoon ground cinnamon
1 tbsp clear honey
1-2 tbsp double cream (optional)

Method


1) Place the oats and water/milk in a saucepan and bring to a boil, then simmer for 4-5 minutes (or simply cook according to pack instructions).
2) Core the apple, then slice thinly and halve the slices. Add to the porridge with the cinnamon and honey, adding more or less to taste.
3) If you're feeling extravagant, add the double cream, give it a stir and serve.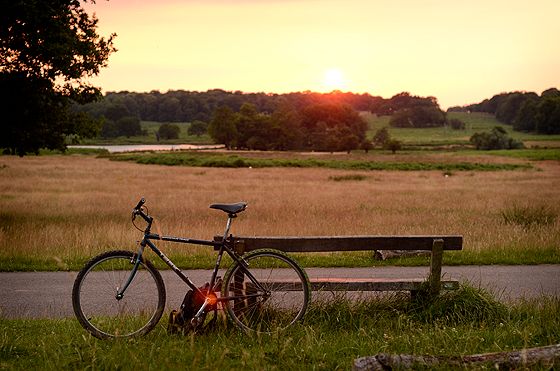 My trusty Trek in a rare stunner of a summer's day at Richmond Park