One of Britain's best loved cookery writers, Nigel Slater returns with the follow-up to the critically acclaimed 2005 publication The Kitchen Diaries.
The Concept
Compiled over a two to three year period, The Kitchen Diaries II comprises of recipes, notes and anecdotes, much like its predecessor, with the major change being that Slater now uses an iPad as opposed to notebooks to record his recipes and musings (something he now "rather regrets"). But it is greater than the sum of its parts. "More than a diary" Slater informs us, "this is a collection of kitchen celebrations". And right he is.
The Recipes
Thanks to the diary format, Slater has been unrestricted in the scope of recipes which can be fitted into the book. As a result, TKDII contains recipes ranging far and wide, from North African influenced dishes such as 'Braised neck of lamb with apricots and cinnamon' (p62) through to classically British inspired courses such as 'Black pudding in pastry with mustard sauce' (p146). In fact, you would probably be pushed to find a cuisine that hasn't influenced one of the recipes listed, such is the variety therein.

"The Kitchen Diaries II is packed to the brim with recipes for an array of comfort food, from soups and stews, to snacks, feasts and sweet treats."


Recipes I tried included chicken and noodles, spiced poached apples and ginger, parsley risotto and boozy sausages. Simply put, each recipe worked and none of them failed to meet or exceed expectations, with results ranging from satisfactory to the sublime. The Kitchen Diaries II is packed to the brim (that's 517 pages) with recipes for an array of comfort food, from soups and stews, to snacks, feasts and sweet treats.
Layout, Design and Photography
As brilliant as the recipes of this book are, I find the aesthetics just as exciting. From the cloth bound cover and the heavy-weight paper that will sustain the splashes from any sauce, right through to elegant serif typeface and wide margins (perfect for making notes), this tome has a rich quality that immediately consigns it to the 'cherished books' shelf. Woe betide anyone who leaves greasy fingerprints on my copy. Ironically.
Jonathan Lovekin's wonderfully organic and simplistic photography suits the tone of the tome perfectly and is what binds the whole thing together. Its mood and lack of glossy styling provides a refreshing change from the mainstream.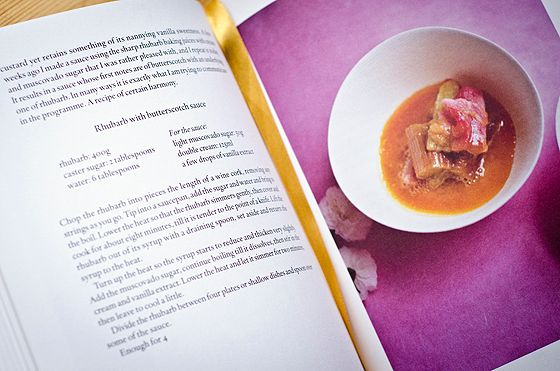 The Verdict
If there are any complaints to be made about the book it would have to said that, although beautiful and weighty, its dimensions are cumbersome and impractical for actual use it the kitchen. It wouldn't fit in my recipe book stand and doesn't stay open on a table.
Nonetheless, Slater's relaxed approach (he tells us he's never happier than when a reader simply uses one of his recipes as inspiration for their own), combined with often-short ingredient lists make for an alluring product that tempts you in to the kitchen, offering mouthwatering meals for little fuss. Add to that his poetic prose, which takes the reader from excessively saliva-inducing descriptions through to tales of Nordic winter, and you have a winner of a cookbook. Simple at heart, and yet so much more than just a cookbook.