Pantiles Food Festival
For those Tunbridge Wells-ites like myself, the
Pantiles Food Festival
has now become an annual highlight on the local calendar. Now in its third year, the festival saw the historic centre of Tunbridge Wells heaving with hungry crowds, eagerly snapping up the abundance of local produce on offer.
Rosemary Shrager
was a new addition to the Food Festival portfolio, having just opened her very own cookery school in the Pantiles too.
Hong Yi
Put simply, Malaysian artist and architect Hong Yi creates stunning artwork with food. Better seen than described, head over to a page of her works
here
, or follow her on
Instagram
. Inspiring stuff.
Food. Curated.
Foodcurated.com
is run by Brooklyn-based Liza "Mosquito" de Guia. Liza combines her love of food and storytelling to create short documentaries into the stories behind food businesses and more. Liza's mission is to find where good food comes from, and showcase the businesses and the people behind them, in the hope that "you make a point to seek them out and support what they do. For food passion deserves to be discovered."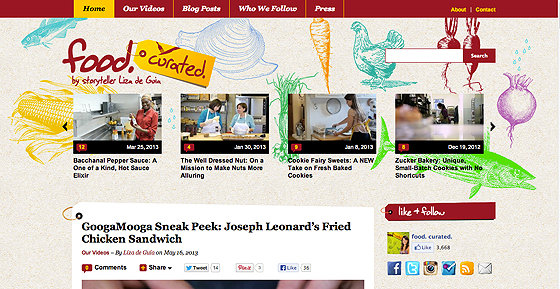 Natalie Coleman
Congratulations to
Natalie
on a well-deserved MasterChef victory. A humble and honest approach combined with consistent skill and that Cockney accent saw her impress the likes of Marcus Wareing and Simon Rogan, and ultimately take home the trophy. She has since been
offered a job with Wareing
at his two-Michelin starred restaurant, Marcus Wareing at the Berkeley.