Until recently, getting your hands on a book focussed on food photography would have been a sizeable challenge, if not something of an impossibility. In a sense this is not surprising, as food photography is, after all, something of a niche. Things have now changed, though. Not only the with the age of Amazon, e-books and self-publishing, but also the food revolution which has conquered Britain and seemingly the rest of the world. This, in combination with the age of web, has sparked another sub-revolution: the food blogging phenomenon.
With the food blogging sensation came a desire for something more than just good recipes or good writing; punters wanted pretty pictures to accompany 'Granny's Tarte Tatin' or their write up of Pollen Street Social. And so now, over the past three years, a small flurry of books dedicated to the art of food photography and styling have been published.
"Dujardin writes with a lighthearted and encouraging tone, which makes for easy yet informative reading."
Of the books on offer,
Hélène Dujardin
's
Plate to Pixel: Digital Food Photography & Styling
was the one that seemed the best, and so it was this that I ended up purchasing.
A French pastry chef turned professional food photographer and stylist, Dujardin emigrated from France to America in the late 1990s.
Plate to Pixel
, her first book, is a comprehensive volume that should leave very few food photography-related questions unanswered.
Beginning with chapters on your basic camera settings and the elementary concepts of lighting, Dujardin guides you through 'artificial lighting', 'composition' and 'setting up for capture', finishing of with a good 50 pages on styling and a chapter on 'after capture'. There are also a few useful appendices with a great list of recommended resources.
Dujardin writes with a lighthearted and encouraging tone, which, coupled with well-spaced paragraphs, subheadings and plenty of large photographs, makes for easy yet informative reading.
With a title like 'Plate to Pixel', one would think that this book only applies to digital photography, but whilst it is obviously written with the digital market in mind (probably all those food bloggers!) much of the essential content applies to all formats of camera.
The key question though, is whether - and how much - it helps a novice in their pursuit of capturing quality food photographs. Personally, before reading the book I had very little knowledge as to how to go about the business of taking photographs of food.
Plate to Pixel
demystified the basic elements and exposed the truth that these core essentials to food photography are actually far simpler than I had initially thought, and thus gave me the confidence to give it a go. Have a look at
my food photography
now and see whether you think it helped me at all. In fact, food photography is now a large portion of my professional practice, if that's anything to go by.
Oh, and did I mention that Hélène Dujardin is also a
very successful food blogger herself
?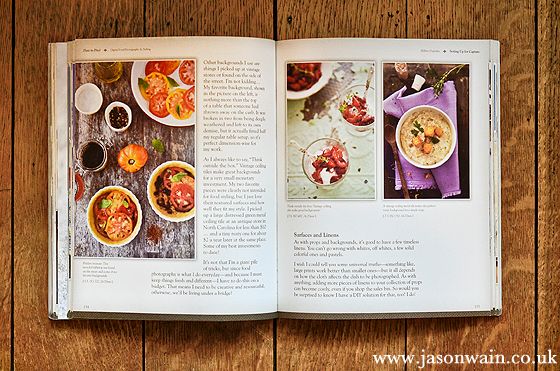 Preview and purchase
Plate to Pixel
at Amazon.co.uk.