A couple of weeks ago I was involved in a lorry crash. Not directly, thankfully, but I was there on the hard shoulder with my Nikon in hand. The incident left me with a few impressions, which I thought may be worth sharing here.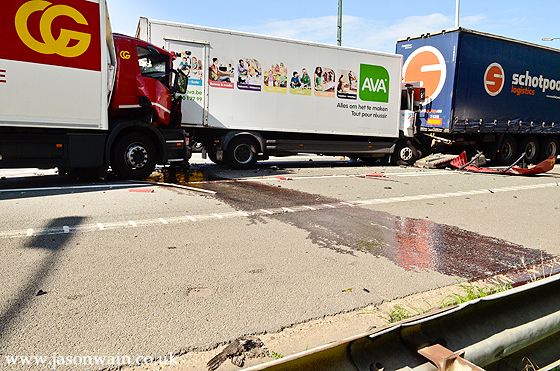 When I was at university, one of my photography lecturers told us an old joke from when he was doing his MA. "How do you be a photojournalist?", it goes. "1/60th of a second, f8.0 and be there." I suppose this is more of a proverb than a joke, as it runs so true.
I was minding my own business at service stations just off the E17 in Belgium. It was a balmy August day and I'd just begun a week's holiday at last. Suddenly, above the rush of the motorway traffic, there is an almighty bang and a cloud of dust rises through the tree-line between the services and the motorway. I can only assume there has been a crash, so I grab my camera and head off in the direction of the noise.
Approaching the incident, a small crowd has already assembled at the foot of the bank beneath the road. A few of us clamber up to find at least four HGVs have collided. It looks serious. In this one instance I am ahead of the game, and the fact that I am at the scene of the accident before any press photographers, journalists or news programmes means that, in a way, I am superior. I can break the story before anyone else. And just because, as the proverb says, I happen to "be there".
This highlights the importance of just being where the action is – although there is an element of 'luck' involved in these things, if you are sat in your room all day you won't get the money shot. It's as simple as that.
It also highlights the value of citizen journalism – those by-passers that happen to be on the scene can break news via the likes of Twitter long before a press office has dispatched a trusted old photographer.
Also worth mentioning are the feelings I experienced. As I stepped over the barriers onto the hot tarmac of the hard shoulder, a thrill of excitement and anxiety ran through me, whilst my stomach churned at the thought of the drivers. Were they seriously injured? What if they were dying?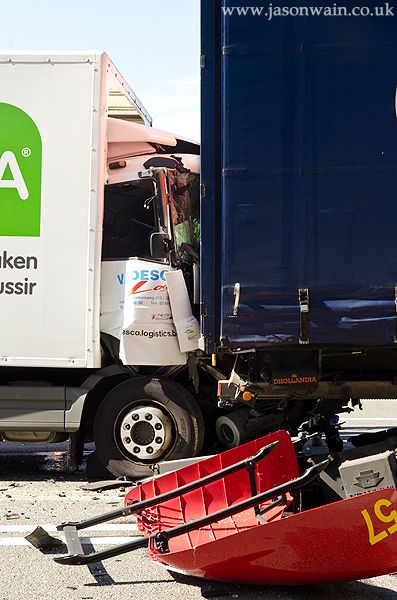 Although the atmosphere – the exhilaration of water and coolant running over the tarmac amidst crumpled metal and glass – gave me a buzz, I was compromised by a deep feeling of guilt that I was walking around taking photographs whilst there lives possibly at stake. I felt like I was cashing in on the misfortune of the others (despite the fact that no cash would be made). After all, it could easily have been me in that crumpled mess of a cab.
I was only spurred on by the facts that a passing ambulance was already at the scene, and that I had no medical training and am certainly no fireman – there was little I could do other than pray for the lives of the drivers and take some photographs. Also, I had recently seen war photographer Don McCullin explain similar feelings and justify the nature of this photography in the moving and harrowing documentary, McCullin.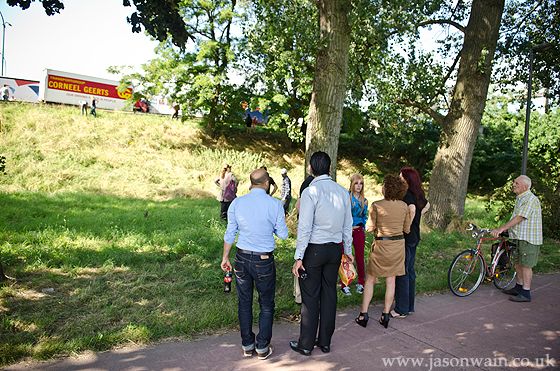 Thankfully nobody died, though two of the drivers were seriously injured. The cause of the accident was simply that the lorries were driving too close together when one of them braked suddenly. It wasn't a pleasant experience, but it certainly was an interesting one and it got me thinking. These things always happen when you're least expecting them, so never leave your camera at home.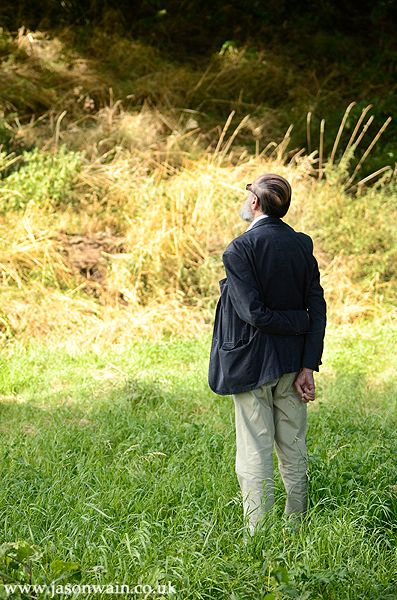 This bystander stood motionless for ages, apparently lost in what he was witnessing.