A somewhat wordy title, I'll admit, but it least it means that it doesn't need a blurb of any sort.
One of the early titles we were recommended to buy whilst studying photography at university was Photoshop-guru
Scott Kelby
's
The Adobe Photoshop CS5 Book for Digital Photographers
. I already had a couple of years experience with Photoshop and we were also taught to use the programme in workshops, so I thought that buying this book would be unnecessary.
How wrong I was. Three and-a-half years later, after finishing my degree, I decided to buy it. Having worked through this 377-page tome almost from cover to cover, I can safely say that I wish I had bought it whilst at uni: the end results of the hundreds of hours poured into various projects would probably have looked considerably better had I done so.
But such is life, and we must move on. As you have probably deduced by now, what I am trying to say is that
The Adobe Photoshop CS5 Book for Digital Photographers
is a good book. If you are a photographer of any sort who uses Photoshop, it is well worth buying the version of this book relevant to your copy of Photoshop.
From the basics such as 'colour correction' and 'creating stunning black and white images', through to 'creating HDR images' and 'step-by-step printing and colour management', Kelby's book is not only comprehensive, but is laid out in a very clear, user-friendly manner. And if that isn't enough, it's littered with random humour too.
Even if, like me, you are a photographer who prefers to spend more time behind the lens than behind a computer screen, you will still find that this book is endlessly useful in helping you to get the best out of your photographs in post-production without losing the 'authenticity' of your unprocessed image. Purchasing this book not a question of needs and wants in my humble opinion - it's just a matter of common sense.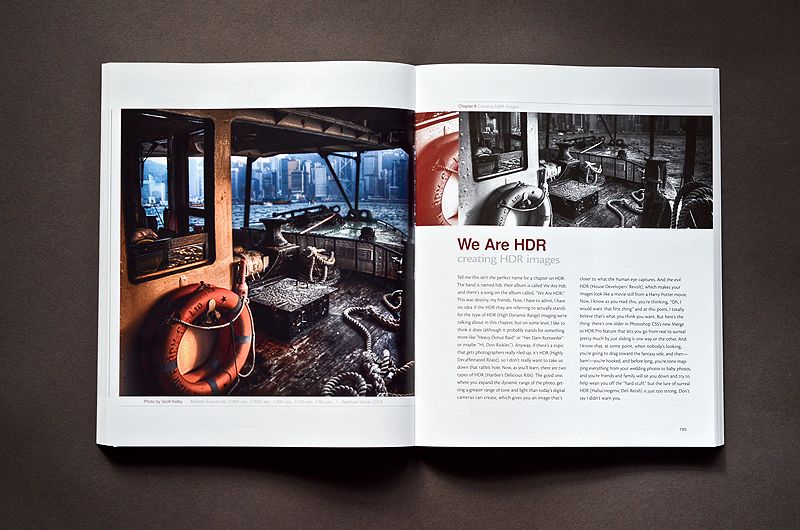 Available to buy from Waterstones as well...