As part of my graduate photography project, I needed to photograph an Aston Martin. Interestingly, when people see the photographs the question frequently posed to me is "how did you
get
to photograph that?" rather than "How
did
you photograph it?"
To answer the first question, I simply posted a request on
PistonHeads
detailing what I was doing, what I required and what the generous donor would get in exchange for their time. A kind gentleman called John graciously came forward and offered me the use of his gorgeous Aston Martin V12 Vantage in Quantum Grey.
Location
Planning a shoot like this is a bit of a nightmare, to put it mildly. Planning four of them whilst writing a book and working on other deadlines – as I was at the time – is a tremendous headache plus a nightmare on steroids. For the Aston shoot I needed to find a location that was suitable for John, myself, assistants and models.
The location decided upon was
Hylands House
in Chelmsford, Essex. This stately manor home would make an ideal backdrop, suiting the Aston image of class and luxury to the ground. The next step was getting permission – a simple "no" at this stage puts you back to the drawing board. Which is the last thing you want when you've finally found an agreeable location for all involved, and which also actually suits the required criteria and aesthetic for the final images.
Fortunately, the staff at Hylands House were friendly and agreeable. I said the shoot needed to take place at dusk and when it wasn't too busy. They gave me about three dates – which leads to the next question. Which of the two or three dates is going to suit everyone involved?
The Shoot
The day of the shoot was a chilly (read: freezing) but beautiful March evening. All the stress of the organization suddenly became worthwhile when the V12 Vantage arrived. Setting up my equipment in front of the house, the relative quiet was suddenly disturbed by a deep, orchestral roar. Turning round, I looked to see the gorgeous silhouette of the Aston, backlit by the soft pink sky, rolling down the driveway, purring gently like a lion being given a massage.
After the initial hello's and some gushing but honest compliments about the car, we got to work. I shot the car using two wirelessly triggered Nikon SB-600 speedlights, mounted on flash stands and diffused by umbrellas. It was a fantastic set up for the shots I needed, and I largely owe it to
Strobist
's
Lighting 101
for helping me to achieve the lighting that I did.
The shoot took a couple of hours, as I had two shots that I needed (and – after all the organisation – I most definitely could not afford to have to re-shoot, so I needed to get these shots right!) and I also had to get some shots for John, as a thank-you for the use of his car.
After a few hours of intense shooting/directing we called it a day. It was pitch black and everyone was freezing, but we had the shots in the bag.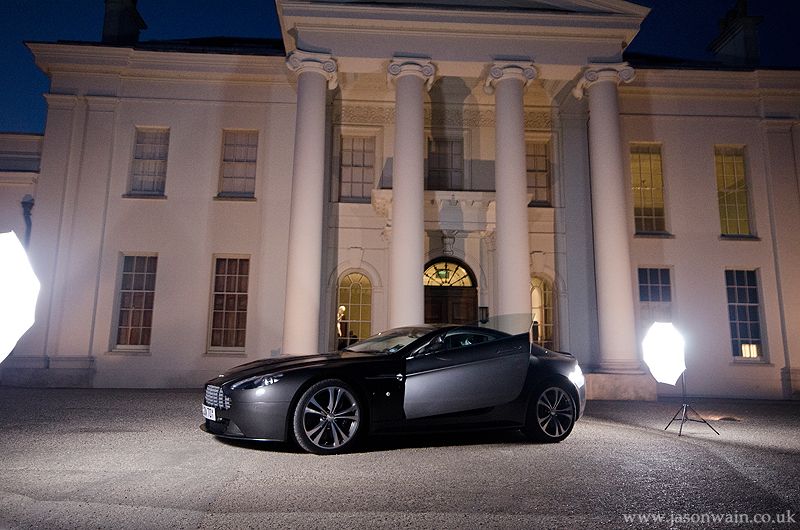 The setup - two wirelessly triggered Nikon SB-600 flashguns created dramatic light and shadows.