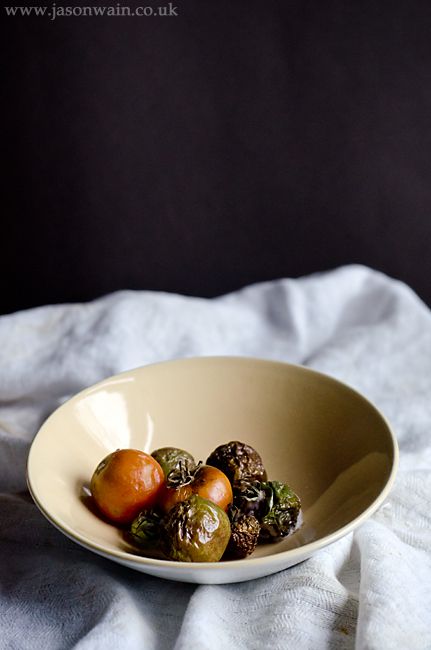 I was about to test out a new set-up last week. It was a miserable afternoon and the light was rapidly fading. Earlier that day I had been doing a little research into still life paintings from the
Dutch Golden Age
, reading about the often sombre messages they carried about the brevity of life and so forth. Cheering stuff.
So when I clapped eyes on a bowl of rotting tomatoes in my kitchen, I knew I had just the subjects I needed with which to test my new set-up before the light had completely disappeared. The tomatoes were taken from my measly vegetable patch – they had all fallen off the vine before ripening and so had been placed in a bowl by the window in hope that they might still turn red. Alas, they didn't. They did, however, fit in nicely with the Dutch still life theme.
So the pictures you see here are not mouthwatering. They are not juicy, vibrant, red tomatoes evocative of an impossibly good holiday on the island of Capri. And why should they be? I am not trying to sell you anything, after all. I am not attempting to subtly persuade you to try a recipe either.
See these pictures as an antidote, if you like, to the overexposed, over-stlyed, overly-saturated-clean-and-bright photographs that we see in droves every day in every magazine and newspaper we pick up. These photographs are dimly lit. The tomatoes are not fresh or tempting. But somehow, they have a kind of quiet and solemn beauty of their own, showing an often ignored part of the food cycle. "
To dust they shall return
", I couldn't help but thinking.
Failing that, they at least served as a good test shot.