"Photo, brother, photo!"
A pair of grinning orphan children, seeing my camera, beckon me over. They want their photo taken, stood in the warm night air outside the ramshackle, pastel-coloured hall that is home to them and about seventy five other children. I shake my head. "Too dark" I respond, grateful for the excuse to avoid yet another photo assault.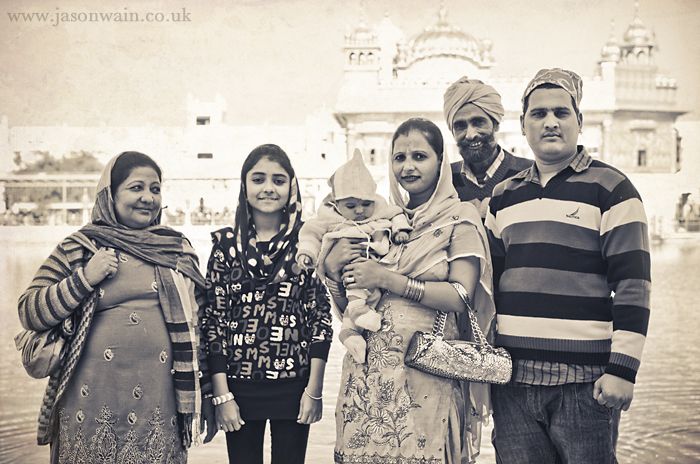 A family stood in front of the Golden Temple, Amritsar. One of the many who asked for a photo, they didn't ask me to send a copy to them, they just wanted to be photographed.
Whether you are in the far north of the country at Amritsar's Jallianwala Bagh (a slightly awkward place for an Englishman to be, considering the massacre of hundreds of innocent Indians at the hands of the British here in 1919) or deep in the southern state of Tamil Nadu, it seems that Indian folk want you to take their photo or want their photo taken with you. A very different attitude to that found in England, where cameras are looked upon with mistrust, seen as instruments of paedophilia and the intrusion of privacy. But then perhaps making comparisons with England is pointless as the great, sprawling mass of India is so radically far removed from our little island, both physically and metaphorically.
Three weeks was my allotted time on the subcontinent, and each week was to be very different. The first one flew by in a blur of tourism taking in a weekend in Mumbai followed by a flight up to Amritsar, the city famous for its Golden Temple and located just 27km from the Pakistan border. A ride on the night train to Delhi, a day in Delhi and a train to Agra was followed by a sunrise visit to the Taj Mahal and a guided tour around the Agra Fort. A four and a half hour train journey later and my two travelling companions and I were in Jaipur. Here we stayed in the incredible Pearl Palace Heritage hotel; the kind of place that makes you feel like a Maharaja, where even the toilet is worth a picture, and yet only costs about £10 a night. (Which, incidentally, compensated for the slightly underwhelming Pink City.) The ensuing trip to the Amber Palace was impressive though by this point we were a bit 'forted out'. By the time we were on the 05:40 flight to Coimbatore, I was secretly glad to be leaving the chaos of the Golden Triangle and our manic travel schedule behind and looking forward to a whole week spent in one locale.
Which is when I became rather ill. Unfortunately this seems to be part and parcel when travelling to India, and the trouble is that it's almost impossible to discern what causes the illness and which of the many precautions I was taking had let me down. After a few days in a jaded hotel room (it may have seen glory days in the seventies) I was glad to be out and about. Most importantly I was humbled and honoured to meet the orphan children at the Gilgal Ministries orphanage. They were incredibly pleased to meet us, their faces shining with delight and humour as they interacted with us in broken English.
"You like Justin Bieber, brother?" one asked, whilst a few others patted my stomach – which was none too welcome considering its volatile state – and asked whether I had a six pack. The hall where they slept, ate and played was just that – a musty brick rectangle of a room, with an adjoining luggage room. This was lined with shelves containing colourful but dented and scraped tin suitcases. Each orphan has one which contains their clothes and all their worldly belongings.
If the first week had showed something of India's history, religions, architecture and cultural icons, the week at the orphanage was one of moral consideration. In contrast with the corruption found throughout India, here were loving children who tried to give you what little they possessed. In my case I received a rubber wrist band, an ornate blue crucifix and a slightly tear jerking letter upon departure, after three days in which I did almost nothing for them.
The final week largely revolved around the wedding of my best mate Andy to a girl from Hyderabad in the state of Andhra Pradesh (now Telangana). A mix of activities led up to the wedding itself, from getting tailored suits for £30 through to being smeared with a mixture of turmeric powder and coconut oil (certain articles of my clothing remain yellow to this day). The wedding itself took place on a balmy Wednesday evening and was characteristic of India as a whole – vibrant, chaotic, stressful, frustrating and joyful all at once.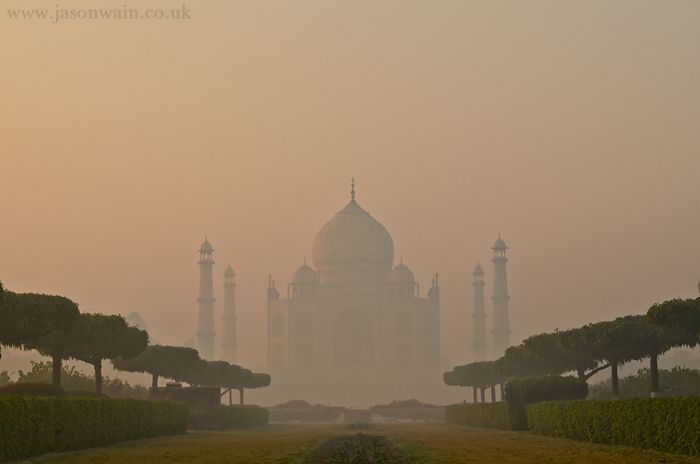 The Taj Mahal at sunrise. Perhaps the most famous icon in all of India and a key part of the Golden Triangle. I don't feel that the magnificence of this, the world's most elaborate tombstone, is overrated.