Everyone in England
suspects that the food in India is radically different to Indian food in England. In my experience this was only partially true – one of the culinary highlights of the trip was a lamb korma and butter naan on the rooftop restaurant at the charismatic
Pearl Palace Hotel
in Jaipur. Another was butter chicken in Amritsar in a brightly lit restaurant that championed a microwave on a pedestal at the end of the dining area. Hyderabad is famous for its Biryani, another dish readily available in the UK.
Suburban Hyderabad, home of the biryani and where I spent my third week in India.
There were, of course, different foods. A creamy scrambled egg with onion and tomato at the orphanage was one such highlight (as was the kitchen it was made in). Romali rotil, like an extremely fresh and doughy tortilla, was another. The raj kachori, a speciality at Haldiram's in Old Delhi was something else you wouldn't see in the UK, which is probably a good thing. (It consisted of a thin pastry shell containing a chickpea curry, yogurt and a green and yellow tangy chutney. Odd.)
It seems impossible to come to a single conclusion about India. After three weeks of travelling I was left almost with as many questions as answers. On the one hand, one expects warmth, crazy driving, poverty and bartering, so one isn't surprised by it. But on the other, I was a little confused as to how to respond to it all. There is the side I dislike. The filth and pollution. The claustrophobia of certain urban settings. The rife deceit and corruption; the fact that you can hardly trust anyone to give you the truth if there is the smallest chance of a vested interest. I disliked constantly having to be wary about what I ate and drank and obviously despised being sick and spending days in bed.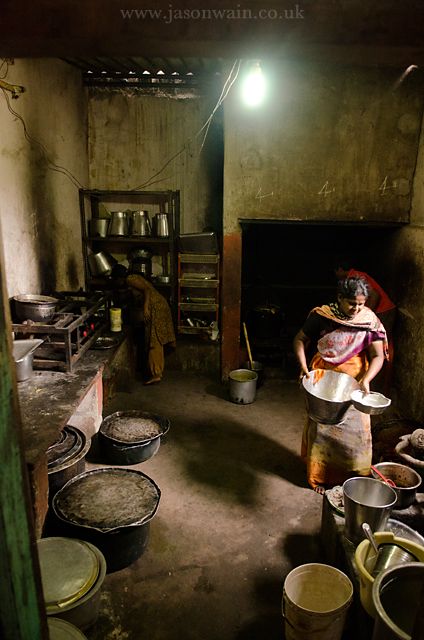 The kitchen in the Gilgal Ministries orphanage.
And yet there is a side which I just cannot help loving. Despite everything, there is something of a sense of liberty about India. It seems like anything goes, particularly on the roads, which somehow feels great. In fact, one of the highlights for me was the tuk-tuk rides, zipping in and out of the ceaseless flow of traffic, always within a hair's breadth of the closest vehicle, whether that happens to be a rickshaw, a donkey and cart or a tremendous lorry. With your life in the hands of the driver and the smoggy wind in your face, you can simply sit back and enjoy the ride.
There is also the positive side to the people. Despite the common corruption and trust issues, some of the people I met were incredibly warm and friendly, from the strangers who approached you in the street simply to shake your hand and say hello to the clingy, fun-loving orphans who proved that material wealth and possessions are not even slightly proportional to happiness.
Great food at the Pearl Palace Hotel in Jaipur.
So I don't really know what to make of it all. But maybe that's the point; perhaps there is no definitive conclusion to be made of India. Perhaps it is sheer tomfoolery to attempt to pinpoint, to narrow down a nation of such enormity, a country of such great contrasts, such variety and so rich a culture, into one sentence, one opinion, one definition. The vast landscapes, the deep history, the global influences and the numerous religions all combine to make a nation that is beyond one label. Try summarising planet Earth as a holiday destination to an alien and you'll see what I mean.
But is it somewhere you should go? Depends who you are, really. The definition of holiday is very broad, but lets just say if two weeks on a Caribbean beach is at one end of the spectrum, then India is on the other. But that's not to say luxury isn't an option. Indeed, one of the great appealing factors of India is that once you are there it is possible to eat and sleep very well for very little money.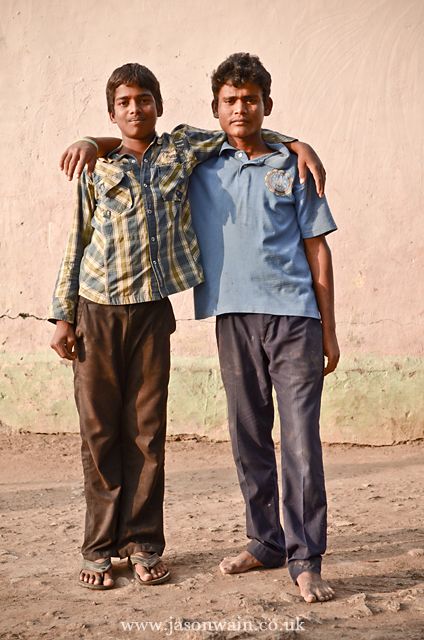 Two orphans, Naveen and Dongley. It took less than a day to become best buds with these guys.
India is an experience, not a relaxing break from everyday life. It's an incredible assault on the senses that can change in an instant; one minute you may be gazing in awe at the shimmering magnificence of the Golden Temple, the next you are wandering the dense network of Amritsar's alleyways; past tiny shops occupied by weathered locals, the sun streaming through the thick air, the smell of petrol and pakoras filling your nose. One of travelling's greatest facets is the experiences and random moments one encounters that simply never occur in everyday life. India does this in bucket loads. Just make sure you bring some dioralyte in case you can't contain it.
Public transport - particularly by train - is something of an experience. Recommended.
The rurality surrounding Coimbatore stands in stark contrast to the claustrophobic clamour of Hyderabad.
Continued from Part 1.